Product
Kaspersky Embedded Systems Security
Unique multi-layered security to protect embedded systems from the latest threats
Kaspersky Embedded Systems Security
Windows embedded systems are an increasingly popular target for cybercriminals. These devices tend to operate inside the corporate network, are geographically scattered and usually handle critical data, often working with credit and debit cards. End-of-life Windows XP is still a standard for many of these systems, as is low-end hardware.
Kaspersky Embedded Systems Security is specifically designed to protect these systems against attacks targeting their contents and exploiting their limitations.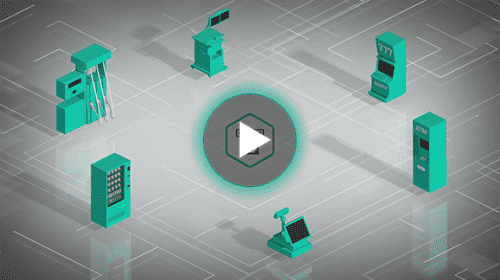 System hardening
The basis of effective protection for embedded systems, where everything (apps, drivers, libraries, USB drives and other peripherals) not explicitly permitted is blocked. Untrusted updates coming from unknown sources are prevented from being installed.

Opt-in Anti-Malware and Exploit Prevention
Proven protection from the industry's leading anti-malware technology stack, capable of detecting even the most ingenious attack scenarios – including those using fileless and living-off-the-land (LotL) attacks.

Network Threat Protection
Monitors network activities and blocks one of the key attack vectors directed against embedded systems. This includes port scanning, denial-of-service attacks and exploitation of network-related vulnerabilities.

File & Registry Integrity and Log Audit
Monitors and prevents changes to critical files and system Registry, helping to contain attack types exploiting embedded devices' specifics – such as those involving offline manipulations. Regulatory compliance requirements are also addressed by these techniques.

On-prem or cloud management
Flexible management options ensure the best fit for each business's security architecture, processes and financial considerations. An integrated workflow and the ability to manage multiple security layers from a single console allows for better visibility and more effective security policies.

Strong self-protection
Many attacks against embedded devices involve interfering with the protection solution itself, such as attempts to disable it or use it as a means to deliver attack tools. Kaspersky Embedded Systems Security is designed with a strong emphasis on self-protection.
Suitable For
This solution is particularly well suited to addressing the security requirements, concerns and constraints of these enterprise sectors:
In Use
Securing Embedded Systems

Embedded systems present specific and unique security concerns – they're usually geographically scattered, they can be challenging to manage and they're rarely updated. Designed for organizations operating ATMs, PoS and vending systems, medical equipment, etc., Kaspersky Embedded Systems Security mitigates the security risks inherent in these embedded systems while taking into account the nuances of the threat environment they operate in. It protects the attack surfaces unique to these architectures, reflecting the specifics of their functionality and OS, connectivity and hardware specifications.

Weak systems also need protection

Kaspersky Embedded Systems Security has been built to operate effectively even on low-end and legacy hardware (supporting specifications down to 256MB of RAM, and Pentium III CPU) and old software (down to Windows XP SP2), with no risk of systems overload. Weak communication channels (down to 56kbps) are also not a problem, even when a mobile modem is the only communications option and works on 2G only due to a poor signal.

The unique, comprehensive set of protection components in Kaspersky Embedded Systems Security – anti-malware, application and device control, firewall management, File Integrity Monitoring and log Audit – identifies and blocks malicious actions against your system, and detects the different indicators of a security breach. This helps our customers to meet the compliance requirements of regulations such as PCI/DSS, HIPAA, SWIFT CSCF, etc.
24/7
Premium Support
Professional help is available whenever you need it. Operating in more than 200 countries, from 34 offices worldwide, we have you covered 24/7/365. Take advantage of our Premium support packages, or call on our Professional Services to ensure that you derive maximum benefit from your Kaspersky security installation.
Uhat
Sulautettuja järjestelmiä on nykyään kaikkialla: lippuautomaateissa, pankkiautomaateissa, kioskeissa, maksupäätteissä ja lääketieteellisissä laitteissa. Kaspersky Embedded Systems Security suojaa tällaisia Windows-pohjaisia laitteita valtuuttamattomalta käytöltä ja kyberhyökkäysten aiheuttamilta jatkuvilta haitoilta, ja suojaa yritystä seuraavilta:
Asiakkaiden tunnistetietojen ja luottamuksellisten tietojen varkaudet ja hyväksikäyttö

Kohdistetut hyökkäykset, jotka tehdään sulautettujen Windows-järjestelmien kautta

Kaikki maineen ja tuotemerkin vahingoittumiseen liittyvät kustannukset

Kopioiduilla luottokorteilla tehdyt varkaudet, joissa on käytetty kassapäätteiden ja pankkiautomaattien muistivedoksia

Käteisen rahan menetykset suorana seurauksena yksittäisten pankkiautomaattien hakkeroinnista

Tarve uusia laitteisto ja käyttöjärjestelmä päivitettäessä suojausta
Voit keskustella asiantuntijamme kanssa siitä, miten Kasperskyn suojausratkaisut tukevat yrityksesi turvallisuusstrategiaa. Ota yhteyttä.